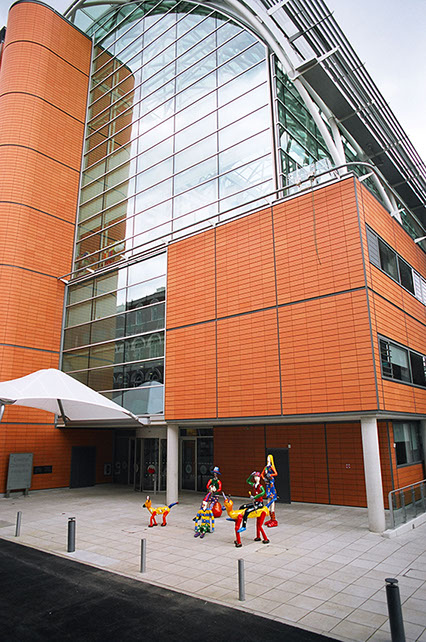 The Floridians (190cm x 110cm x 45cm)
The project for the " Evelina Children's hospital" is now in place.
Frederic Lanovsky's exhibitions around the world show his popularity. From France to the exclusive Principality of Monaco, from England to the US, where he was awarded 2 prizes through the Artist's guild of the Boca Raton Museum of Art in 2006.
Frederic does not go unnoticed. He touched the hearts of several patients at the Evelina Children's Hospital in downtown London where he installed a group of 5 sculptures. The project was a special request from the Director of Art and Heritage, the doctors and the children themselves to have the grand entrance graced with his work.
Frederic Lanovsky embraced the idea by creating what he entitled « Children of the World ».
It was a great adventure not to mention that the hospital was built by the very well known British architect Mr. Hopkins.A modern building of an impressive design and technology. A state of the art medical facility dedicated to the well being of children.A tremendous reward came with all this; her Royal Highness the Princess Anne inaugurated Frederic's art on June 15th, 2006 for the grand opening of the hospital.
As an artist, Frederic Lanovsky wishes that the fun personality of his sculptures will bring joy, happiness, love, hope and a ray of sunshine to the children.